Are you looking for some alternative ways to showcase your TV? If yes, then your search ends here. Because we are going to help you with some of the best alternatives that you should know.
When it comes to securing your TV, saving some space, or making your hall room looks organized and nice, TV mounts are always a great option for homeowners. But every product has its disadvantages. Every living room is not perfect for a TV mount. Also, you have to do some tricky technical works while mounting tv with a wall mount that most people struggle with. Besides many of the renters are not allowed to drill in their rented wall.
Therefore, if you are one of them or have your reasons to not mount a TV on a wall, we've found out some creative and Best Alternatives to Wall Mounting TV for you.
So, without further, talk let's get started.
TV stands are common and easy alternatives to a TV wall mount. A television stand is almost the same as a TV wall mount, but you can say it often provides some additional benefits such as easy movability, storage, and cable management.
Most of the people that are looking for an alternative to wall mounting TV have a spacious or uniquely designed living room and mounting TV on their walls doesn't look good or reduce visibility.
In this case, a TV stand can be a great solution. Almost all the TV stands available in the market easily moveable and can be adjusted according to your viewing angle. Also, many people face problem centering the TV or adjusting its position on the wall while mounting it. But mounting your TV on a TV stand is very simple and easy –
 Assemble the stand properly with the help of the instruction manual provided with the TV stand.
 Attach the TV brackets that come with the stand to your TV using screws.
 Lift the TV up with the screen facing you.
 Center the TV on the TV plate.
 Attach the brackets with the TV stand plate
 Tighten the screws properly with a wrench or screwdriver.021
 Universal TV stand, designed to fit most of 37″-55″ TVs up to 88lbs
Comes with easy height adjustable features
Easy installation will an easy to use instruction manual with fittings provided
Compatible with almost all the renowned brands out there
Lightweight, easy to move, and store
Compatible with most 22in to 65in screen-sized TVs that weigh up to 110lbs and VESA 75 x 75mm up to 800 x 400mm.
Has 2 level height adjustable mounting holes for comfortable viewing angle
To prevent scratching of floor or cabinet surface, it has a 3 mm feet soft pad on the base
The simple installation process with easy guided manual
All the hardware included that you require to assemble and install the stand
The price is very cheap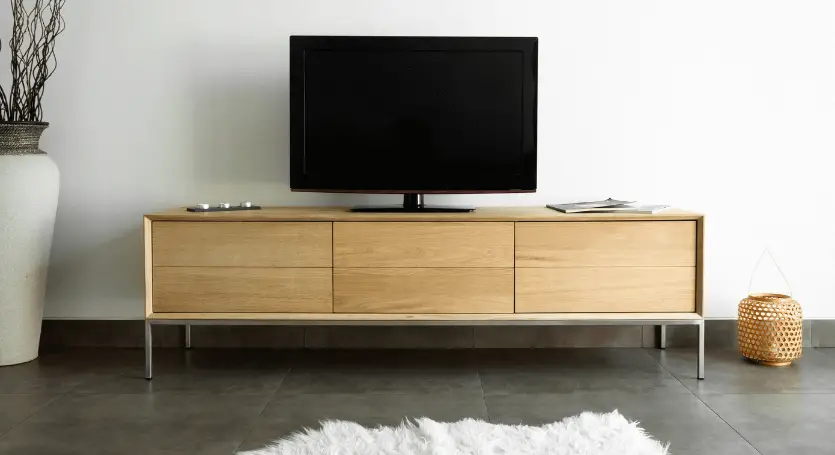 Television cabinets can be another great alternative to wall mounts. Television cabinets not only make your work easy but also give an attractive look in your living room. There are lots of different brands and different beautifully designed television cabinets out there to choose from.
Also, all the houses are not suited or designed for mounting a TV with mounts. In that case, you can make a cabinet for your TV by custom order that will match the unique design of your house and fit perfectly.
For spacious living rooms, it is always recommended to use a moveable cabinet for a clear view and easy transportability. However, television cabinets take comparatively more space but they can fully match up with your home. Besides television cabinets make the cable management process very easy. If you are lazy then you can just hide all the cables behind the cabinet and chill.
 Overall best pick at a cheap price
Designed to hold any TV with a maximum screen size of up to 43″
Has 2 shelving areas and a large table spacious tabletop for your TV
Legs are solid rubberwood supported that provides extra stability
The cabinet can hold up to 110 lbs of weight
 Has 15 different color variants to choose from
Compact size and It can easily store anywhere
Comes with 3 adjustable shelves for customizable organization
Easy compatible with TVs up to 80″
The tabletop can hold a maximum of 200 lbs of weight and shelves can hold up to 30 lbs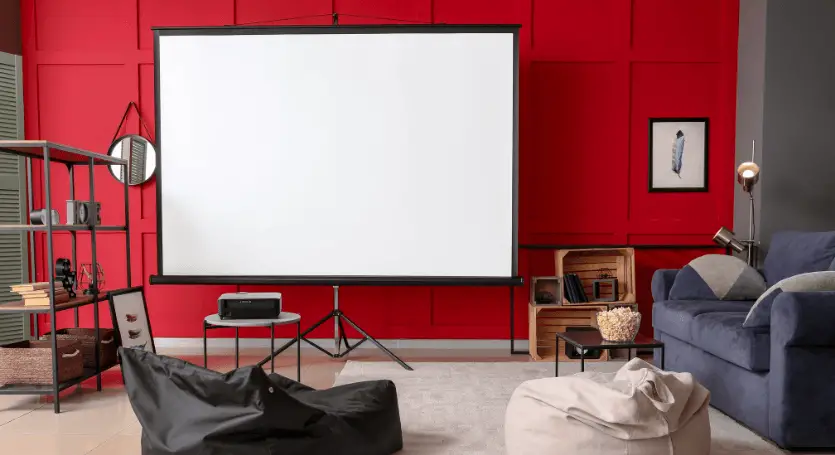 If you are one of those who don't want to go through any technical step to watch your favorite show, then we would recommend you to just go with a projector instead. Using projectors is very easy and you can store them anywhere.
The problem that most people face with TV mounts is its installation process. But, when you use a projector you don't have to be a technician or spend extra money on experts to mount the TV up. You can place the projector anywhere and watch your favorite program.
Also, projectors are easily transportable and can be moved anywhere very easily. On top of it, projectors are cheaper than TVs, which will save you some money also.
In simple words, if your house doesn't suit a TV mount then you can choose a projector as an alternative.
 The projector is powered by an advanced color engine and provides 40% more brightness than an ordinary projector.
It can be easily connected with smartphones or gaming consoles.
You get a custom-designed bag for you to carry anything and store easily.
This video projector provides a watching size from 32" to 200" with the projection distance between 1.2m to 9m
The projector has an innovative cooling system and noise suppression technology
 The projector equipped with high contrast ratio and 1080P resolution supported
Provides great experience with a bigger screen and cleaner image
Built-in speakers offer excellent loud sound quality
You get lower in noise and more durable than previous models
It's a home theater projector, not recommended for business presentation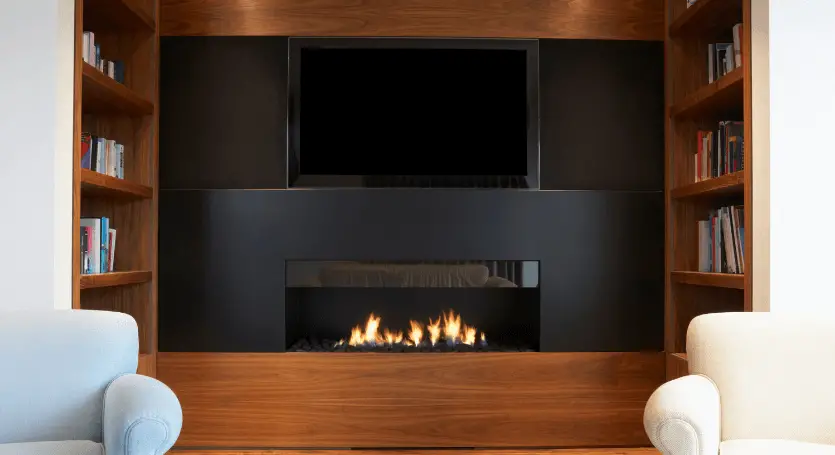 If your house has an electric fireplace then you can position the TV above the fireplace area. But it is not advisable to place your TV above a gas fireplace because of excess heat. According to an article on bobvila.com, A gas fireplace can generate up to 35,000 British Thermal Units (BTUs) of heat per hour. But an electric fireplace generates less heat or no heat at all. That's why an electric fireplace top can be a place to stand your TV.
Many electric fireplaces are uniquely designed to position a TV on them. If you can ensure full safety, then a fireplace top is one of the best options to place your TV, where you can enjoy the view of the fireplace and your favorite TV program together.
Almost all the house owners mount their TVs after buying. But there are many people whose house is not suitable for a wall mount or feels very difficult to mount a TV or has their reason to not mount the TV on a wall. For them, we did a bit of research and find out some best and creative ways to showcase their TVs in alternatives to mounting them on the wall.
Hope you got enough information from this article. Thanks for being with us 🙂