Whether you are going to do filmmaking, interviews, vlogging, or corporate videos, without a proper microphone set up it is quite tricky and difficult and you will not be able to truly get the job done. Especially without a proper microphone setup, you cannot record a professional interview.
Shotgun microphones are currently a great option for recording interviews and capturing sounds from a distant subject. These microphones provide pro-level sound at an accessible price point and are predominantly used by professionals.
These microphones have become very popular for their narrow pickup patterns and sound capturing feature in any situation. Whether mounted to a camera or attached to the end of a boom pole, shotgun microphones are a fantastic instrument to have in your interview kit.
If search online for "Best Shotgun Microphone for Interviews", there are no good resources. Most websites confuse with a lot of options with no information and explanation. But in this article, you will all the information about some of the best shotgun microphones for interviews with explanations and answers to commonly asked questions.
After going through different brands and models we have shortlisted 10 Best Shotgun Microphones for Interviews. So, without further talk let's get through them.

Shotgun microphones are highly directional microphone that points directly at its target for clear recording. They are long and built with a narrow tube protruding from the front. The tube has a series of holes which creates a phase cancellation effect that rejects sounds coming from the rear of the microphone. This is a great advantage of shotgun microphones because it picks sound only that the user desires and avoid all other unwanted sounds that may be present in the environment.
These mics can be attached to the end of the boom pole, mounted to the actual video camera you are using, or set up around the set. When it comes to accuracy, a shotgun microphone is one of the best options. Even professionals refer to them as "Sniper Mics" because of their crystal clear recording power.
The design of shotgun microphones can vary between different models and brands. The longer the mic's tube is, the more directional the microphone becomes. Therefore, shotgun microphones are highly used in applications where the sound directly in the front of the mic is to be recorded.
Uses of Shotgun Microphones?
Shotgun microphones are mostly used for filmmaking, taking interviews, recording dialog, etc. With shotgun microphones, the speaker does not need the hold the microphone and speak into it. As long as he talks to the front of the shotgun microphone, he can talk standing at a distance. So, he doesn't have to focus on the setup and can talk freely.
Shotgun microphones are perfect when you are focusing on one subject because of their narrow pickup pattern. It highlights the subject and avoids surrounding noises. Here are some common uses of shotgun mic-
 Filmmaking
 Taking interviews
 Vlogging
 Recording bird chirpings
 Recording speeches
 Recording conferences etc
Our Best Picks At A glance:
10 Best Shotgun Microphone for Interviews in 2022:
If you are not new to the audio field then you must be familiar with Rode which is one of the leading microphone manufacturers. They have always come up with some of the best shotgun microphone for interviews and Rode NTG5 is one of them. The Rode NTG5 is mostly liked by audio experts because of its pro-level specifications, noise rejection, and accessories that came with it.
The design of Rode NTG5 is very innovative. Its beautiful acoustic design with circular ports offers unmatched transparency. The microphone feels so strong to touch that you don't have to think too much about handling it delicately. If you compare Rode NTG5 with Rode NTG3 then it is more sensitive, shorter, lighter quieter than NTG3, and also has better noise rejection. The metal built internal of Rode NTG5 gives it high resistance to severe cold and dust.
You can say Rode NTG5 is a great step up in terms of portability compare to previous RODE shotgun microphones. It is significantly lighter than previous models of the NTG series. RODE runs its promotion campaigns by claiming that "The Rode NTG5 is a boom operator's dream". 
This is pretty true according to us. With a weight of 76g and measuring around 20cm, the microphone is ideal for use on long-time shoots. It will make a big difference when holding a boom arm up for hours on end. We were shocked at how much lighter and smaller it is than the NTG3.
RF-Bias technology & noise rejection:
Furthermore, the noise rejection of this little beast is impressive, especially in busy locations. When recording an interview, the sound and video quality is everything. Therefore, combined with smooth off-axis response, tightly controlled frequency response, and low self-noise, the Rode NTG5 records sound spectacular.
 Also, as like other shotgun microphones, it has a super-cardioid polar pattern for directional pick-up. On top of it, It features RF-bias technology just like the NTG3 for more robust performance in extreme environments.
Moreover, Rode NTG5 comes with some essential accessories that you will require. The box comes with a WS10 deluxe windshield, PG2-R pistol grip, stand mount, Rycote shock mount, and some other things. These are the things that you will require to start recording mind-blowing interviews.
According to RODE, the Rode NTG5 is a short and lightweight microphone ideal for any kind of filmmaker, interviewer, sound designer, broadcasters, etc. Its lightweight and small design is a huge plus point for boom operators. So, if you are looking for something which is primarily targeted at pros, you have to get Rode NTG5. The microphone can be used in different variety of applications.
Pros
 Natural sounds
 Small and lightweight
 Beautiful acoustic design
 Decent noise levels
Rode always tries its best to satisfy every customer and releases new microphones that match each and every demand of an individual. Rode NTG4+ is another hot cake from Rode that is made for both beginners and professionals. It attracts people by offering them so much at a reasonable price.
When talking about the design of Rode NTG4+, it is very impressive. It is constructed like the RODE's award-winning NTG2 shotgun microphone. The microphone is designed to provide a premium audio recording in a versatile range of applications. The build quality of Rode NTG4+ is pretty solid and gives a comfortable feel when holding it. Also, it has got three digital controls for a great pad, low cut, and presence boost performance.
Features & Sound Quality:
The Rode NTG4+ has a super-cardioid pattern that is a little bit narrower than NTG3. The microphone rejects sounds from the rear pretty well but not a lot from the side. But if you don't have a boom operator and have to mount the mic on top of the camera, the improved back rejection can be very useful.
If we talk about the overall sound quality of Rode NTG4+, then it brings a better quality compared to previous models. The microphone features low noise, high sensitivity. People find it very comfortable using in aggressive and busy conditions. It is not only a good option for recording interviews but also it can handle other applications very easily.
Lastly, the Rode NTG4+ features an integrated lithium battery that lasts for up to 150 hours. If you are not going to use it for more than 5 hours a day then the mic will last the whole month. The microphone comes with a micro USB charging cable. With a charging of only two hours, the USB cable makes charging very simple and convenient. You can also charge the microphone via computer, power bank or every by your car.
The Rode NTG4+ can be an affordable solution for you if you are planning to buy a shotgun microphone for taking interviews. With a long battery backup, you can work the whole month with only two hours of charge. So, it can be a better option for you. But please note one thing, the included foam windshield is quite ineffective against the moderate wind. Therefore, we would recommend you invest some money in an individual windshield, a sock, or a dead cat for better performance.
Pros
 Natural sound
 Integrated lithium battery
 Reasonable price
 Decent noise levels
Sennheiser is always is known for its best microphones. They never disappointed their customers in terms of quality and versatility. Their Sennheiser MKH 416 is currently one of the best microphones in the market that you can get. The microphone is specially designed and developed for use in outside recording activities. It is also significantly used in films, television, and other aggressive recording situations.
What we liked the most about Sennheiser MKH 416 is its design. The microphone is relatively compact with only 250 mm in length. But as it weighs 175 grams, it is quite heavier than the other two shotgun microphones that we have reviewed above. Also, the unique design of the microphone makes it moisture resistant and easier to capture high-quality audio in adverse weather conditions. The microphone has never had any reported issues with faulty units. Believe me, it is a solid unit that worth every dollar and will for a decade.
We hope you will not be surprised if we say that Sennheiser MKH 416 sounds fantastic. The microphone is quite sensitive and the noise rejection figure is within expectations from microphones of this price range. The adjustments to the transducer's sensitivity in the 2,000 to 8,000 Hz frequency spectrum are optimized for recording the human voice with stunning clarity and presence.
We liked how clean the sound is through the specter, especially the rich low end is simply awesome. And thanks to its low self-noise and high sensitivity, you will hardly require any post-production edits. 
matte black finish & weakness:
Moreover, the matte black finish of the microphone simply looks awesome. Similar to other shotgun microphones, it is also powered by phantom power and as a result, the microphone is compatible with several devices. It is used professionally in film and television has been industry standard. 
Professionals say the main weakness of Sennheiser MKH 416 is maybe the price that always pulls it back. But it offers so many cool features that make it worthy of the price. Besides interviewers, this can be a perfect companion for filmmakers and an investment for your shooting equipment.
The Sennheiser MKH 416 is mostly used by industry professionals and because of its high price range beginners try to avoid this microphone. It has all the features that a professional requires to work comfortably. Also, for its high-rejection power and sensitivity, it is one of the best microphones in the market, because you won't require any post-production edits. So, if you are looking for the best professional microphone then this one is for you. We don't recommend this to any newbie.
Pros
 Solid and durable 
 Industry-standard
 Clean quality sound
 Natural tone
4. Shure VP83 LensHopper Camera
The Shure VP83 LensHopper is always a great option for users who want to record interviews directly to their DSLR or any digital audio recorder. Also, it is most liked because of its affordable price range. According to some audio specialists, Shure VP83 LensHopper is the best shotgun microphone for under $200 for DSLR cameras. Its improved features and long battery life attracts most.
The Shure VP83 LensHopper is designed to provide an all-in-one solution for users to easily capture interviews with detailed and high-definition audio by DSLR cameras. The overall design of this microphone is pretty straightforward buy sturdy. It is body is completely made with metal that is seated in an integrated Rycote Lyre shock-mount. The Rycote Lyre shock-mount, which is exclusively developed for the VP83 isolates the mic from vibration and other unwanted noise.
The microphone is developed with a highly directional super-cardioid polar pattern that provides superior off-axis rejection and delivers natural sounds. Besides good sound quality, the microphone features an impressive battery life of up to 130 hours on a single AA battery which is included with the microphone. So, if you use the microphone for 4 hours daily then the microphone will give you up to 1 month of battery backup in a single charge.
It has got easily accessible controls at the back including a three-position gain switch for different recording modes. Its 10 dB cut does produce a respectable decrease in volume while the 20 dB boost will provide to be an audio lifesaver when capturing a quiet subject.
Portability is a must for a microphone especially when you are going to record interviews with it. The Shure VP83 LensHopper is fully metal constructed and designed according to legendary Shure quality standards. Still, the microphone is ultra-lightweight, durable, and portable enough. 
The microphone comes with a 3.5 mm audio cable that allows you for quick connection to the camera or any recording devices. The microphone also includes a windshield to reduce unwanted wind noise without affecting actual sound quality. Also, you get a Rycote windjammer accessory separately in the box.
The main reason we ranked this microphone at 4th position in our list is for its affordable price and portability. Most professional microphones out there are quite pricey and not portable enough for quick action. Also, this microphone is capable to give you up to 30 days of battery backup in normal use. So, if you are looking for something that comes at an affordable price and provides portability and long-lasting battery backup then this one is for you.
Pros
 Lightweight
 Affordable price
 Long-lasting battery backup
 Easily accessible controls
When it comes to audio equipment, RODE's microphones are always at top of the list. The Rode VideoMic Pro is one of the most demanded microphones offering lower noise, higher sensitivity, and more adjustment options than the Rode VideoMic. It can be an ideal choice for interviewers or mobile journalists or budget filmmakers who are looking for a cost-effective way to set up to the next level in quality. The microphone comes with compatible accessories so you don't have to purchase any of them separately.
The Rode VideoMic Pro is designed with a low profile that you can easily attach the microphone to your camera with ease using its cold shoe mount. The microphone is quite lightweight but durable and strong enough to record in rough and tough conditions. An integrated shock-mount system helps eliminate vibration and increase stability whether mounted on a boom pole or on-camera. The overall quality of the microphone is pretty decent and gives it an expensive feel.
The microphone can be the simplest solution for filmmakers or interviewers. In the profession of journalism or taking interviews, people usually use the typical boom for a great positional advantage that leads to cleaner audio with lesser noise. But, such microphones are relatively heavier, costly, and require a boom operator. If you don't want to go through all of these processes the Rode VideoMic Pro can be an all-in-one simplest option for you.
With multiple filter options and features, the Rode VideoMic Pro is simply your true friend when taking interviews. You got access to a two-step low frequency cut-off filter at the back of the microphone – a -10dB attenuation pad and +20dB gain. For louder environments or when the mic is close to the subject, you could lower this setting, as it helps to eliminate some unwanted noise. 
Aside from the dB pad, the Rode VideoMic Pro has a handy LED indicator that shows if the mic is off or on. Its 9V battery is capable enough to back up the microphone for up to 70 hours.
Already mentioned in the specs that the Rode VideoMic Pro has an integrated Rycote shock-mount system that inhabits the transfer of vibration from the camera. Even if you have the camera on a stand it stays still though vibrations are often picked from the ground. 
Also, the Rode VideoMic Pro features a windscreen design that does an OK job most of the time. In addition to the windscreen design, the microphone also features a 6-inch stand that works perfectly for any sit-down style interview. You don't always need to hold the mic which is pretty tiring and boring, right?
The Rode VideoMic Pro is an ideal option for vloggers, interviewers, filmmakers, mobile journalists. With some amazing features and a fully loaded kit, it saves time, money and ensures that you get the best of every piece. Also, if you compare this with other microphones in our list then you will find that the Rode VideoMic Pro is quite cheaper than them and offers almost everything that you will require for your profession. So, lastly, we would say, if the specification of this mic matches your requirements then just go for it.
Pros
 Decent battery backup
 Multiple filter options
 Better usability
 Excellent sound and lightweight
Cons
 Requires delicate handling
As we have reviewed two other RODE microphones above, you must be now familiar with the brand Rode if you are new to the audio market. The Rode NTG3 is just another one of their high-quality microphone that delivers a solid performance. It is a well-priced shotgun microphone for professionals who want good sound quality and low self-noise. Many people compare it will the Sennheiser MKH 416, as it does almost exactly the same job at a lower price.
We love to describe the design of Rode NTG3 as innovative. The microphone is pretty solid to the touch with a fully metal constructed body. As with most of the shotgun microphones out there, there is nothing else on the body except an SLR port on the bottom. 
Moreover, you don't need to worry about carrying a heavy device along to your shooting locations as the microphone weighs only 1.5 pounds. Also, the package comes with a zippered bag for storage purposes. So, you will face no problem moving with the microphone phone site to site.
Sound Quality & RF-Bias Technology:
The pickup pattern of NTG3 is wider than most of the shotgun microphones out there. The microphone rejects sounds from the rear pretty well but not a lot from the side. But if you don't have a boom operator and have to mount the mic on top of the camera, the improved back rejection can be very useful. If you ask us, then for booming we would prefer this microphone for sure over the most popular MKE 600, NTG2, and AT897 for a cleaner sound. For the high sensitivity, it can produce strong output.
The microphone contains an RF-biased capsule. RF-bias technology makes microphones very impervious to high or low temperatures and requires an electric current from the outside to become polarized. The electric current is supplied through phantom power. To provide ultimate protection while in transport or storage, the microphone is provided with a durable aluminum storage cylinder. The cylinder is waterproof and tightly sealed at both ends.
Shotgun microphones are capable to work on low voltage and they are quite power-efficient. For example, the Rode NTG5 can last up to 30 days from a single AA battery with only 2 hours of charge. But one thing that you should notice about NTG3 is, it is quite a power greedy. It drains power very quickly though you have an option to connect it directly to digital recorders that supply phantom power. If you ask for a simple and quick solution, we would recommend you consider MKH 600 or NTG4+ instead.
The Rode NTG3 can be a great option for news anchors or interviewers as it was made with the intent of broadcasting with enhanced immunity to RF ratio. It is a great mic to invest in for professional projects. You will be surely impressed by the number of incredible features. So, you can add this to your wishlist for sure.
Pros
 High sensitivity
 Professional features
 Comes with a rugged waterproof case
 Value for money
Sennheiser is one of the few microphone brands that customers can trust because of their product's high-quality performance, strong build, and diverse range of features. The Sennheiser MKE 600 is one of their best microphones right now available in the market. The microphone is a great example of a shotgun microphone and an ideal option for most interviewers. It can even handle demanding filming challenges.
The Sennheiser MKE 600 is one of the best microphones that comes in an affordable price range. The specification and design of this microphone are pretty decent and can be compared with some high-end microphones. Sennheiser made it short and lightweight that you can carry it from location to location. As the microphone is very compact, it goes well even with DSLR cameras aside from booming. You get a camera-mounted shock mount in the box with two rubber legs that suit for an easy on-camera application.
In the past few years, Sennheiser has gained a solid reputation in microphone agency, which makes us confident enough when buying their microphones that they will not fail to fulfill our expectations. Their MKE 600 model does a wonderful job when it comes to recording clear audio, rejecting unwanted background noises, and delivering studio-like audio. Sennheiser says, due to its high directivity, the microphone picks up sounds coming from the direction in which the camera is pointing and rejects all the noises from the surrounding area.
The Sennheiser MKE 600 is a fantastic quality microphone that offers great value at a modest price. Although it is considered an entry-level microphone, it has just about professional performance. There is a switchable low-cut filter that minimizes wind noise. 
Another great feature that we liked about this microphone is it is battery-powered because not all video cameras or camcorders provide phantom power. The microphone also has a battery on/off switch that allows you to save some battery and prevent the battery from discharging prematurely.
The microphone is such a great deal that every interviewer should have it. The microphone is a bit expensive than other entry-level microphones available in the market but when it comes to a compact size and additional features Sennheiser 600 is the deal. At least, it is better than some high-end microphones that work just like the same but cost you a minimum of 3 times as much and will require a good source of phantom power. 
So, if anyone wants to start his journalism carrier, then Sennheiser MKE 600 can be a great option for you.
Pros
 Low cut filter
 Great quality
 Compact size
Cons
 Needs improvement in wind protection
 Overweight
Another best shotgun microphone for interviews in our list is Audio-Technica AT897 which is also an outstanding microphone for your filmmaking needs. It is quite similar to NTG2 as both microphones have similar sizes, construction, and roughly the same price. It is also one of the highly affordable shotgun microphones that we strongly endorse.
Audio Technica makes some of the best affordable microphones and the Audio-Technica AT897 model is one of their most liked shotgun microphones. When it comes to choosing the best shotgun microphone for interviews then the design of the microphone is very important because poor-built microphones often cause poor audio quality. But the Audio-Technica AT897 is quite sturdy and durable enough to go through any accidental drop. The package includes a windscreen which is not recommended to use for busy locations. The manufacturer also provides you with a 5-year limited warranty.
Sound Quality & Additional Features:
When it comes to sound quality, then we would say that the microphone sounds amazing for the price but needs some improvement. Even though it's an entry-level microphone, it can still be used for professional purposes without sacrificing quality. With a super-cardioid polar pattern, the microphone captures distant sounds better than any average omnidirectional microphone.
Also, with moderate sensitivity, Audio-Technica AT897 performs well with low self-noise and high gain. But as I said earlier, the Audio-Technica AT897 is an entry-level budget-friendly microphone made for beginners. Therefore, you should not expect Rode-like audio quality from it. But it doesn't mean that the microphone itself is bad or sounds bad.
Moving on, Audio-Technica AT897 does a wonderful job of blocking out any off-axis sounds. The frequency pattern of Audio-Technica AT897 flat, but not as much as NTG2. Though when it comes to tonality, NTG2 performs better, however, both mics are equally good and sound equal in many situations. Also, it features a low-cut filter that effectively attenuates the rumble and bass buildup. And lastly, it is phantom-powered and compatible with several cameras/camcorders.
As we said earlier, the Audio-Technica AT897 is ideal for entry-level projects and recommend for users who need a quality directional microphone at an affordable price. It is a short shotgun microphone, making it relatively easy to use and good for many occasions. So, if you are looking for a simple and affordable solution for your next project, then you can consider this one for sure.
Pros
 Rich and accurate sound
 Affordable price
 Low self-noise
 Quality build
In 9th position, we have Neumann KMR 81 I which is one of the best shotgun microphones available for interviews. This mic has never disappointed us in terms of versatility and high-quality performance. This is one of those microphones that should position between 1 to 5th positions. But when you consider price then it is always avoided by the users. If you can bear the price (check price) then you will be a fan of its outstanding performance
The first and foremost feature about the mic that we want to appreciate is the design of this microphone that makes the microphone easier for users to capture high-quality audio. The Neumann KMR 81 I was the second mic developed by Neumann following the KMR 82. The black color of the microphone looks amazing. It is one of those shotgun microphones which are made for those situations where it requires keeping the microphone at a distance from the source. This is often the case in interviews, where the microphone must remain invisible.
Compared to other shotgun microphones in the list, the Neumann KMR 81 I offers more natural sound. When you hear the result of using this microphone then you will understand why it costs so much. The frequency response of Neumann KMR 81 I is highly linear up to 2 kHz. The love-shaped pickup pattern of the mic is frequency-independent. 
Also, it combines a pressure gradient condenser capsule with a medium-length interference tube to achieve a narrow acceptance angle of 90 degrees. Moreover, the microphone can be a great example of sound rejection.
In simple words, the Neumann KMR 81 I is one of the best shotgun microphones that you can get right now. There is no doubt that the Neumann KMR 81 I worths every single penny that you invest in it. But this one is not recommended for any beginner. But if you are a professional then you can try this beast. Believe me, you will be a fan of this microphone when you start using it.
According to Neumann, KMR 81 I is primarily designed and developed for film and broadcast applications. Also, it can be an excellent option for interviews both in the studio and on location. Due to its balanced center of gravity and lightweight, people feel comfortable even after several hours of the shoot. In simple words, this can be a very good microphone if you don't have any budget problem. Most professional filmmakers use this microphone so much. You can have a try also.
Pros
 High directivity
 Excellent sound rejection
 lightweight
 Low power consumption
The shotgun microphone in our list is Comica CVM-VM20 which is known for its cheap price in the microphone industry. Besides recording interviews, it can be a good option for DSLR and mirrorless cameras, podcasts, and vlogging. This is one of those microphones that are multi versatile and can be sued for a wide range of applications. So, let's get into the full review of it.
The build quality and design of Comica CVM-VM20 are reasonably good. The full body of this microphone is constructed out of metal material. Comica says that the metal material can shield external signal interference. Also, if you look at the physical button of the Comica CVM-VM20, they are nice and tactile. 
The microphone comes with a shock mount, a windjammer, a wind muff, USB-C to the USB charging cable, a carry case, a user manual, a 3.5 mm TRS-TRS, and a TRS-TRRS audio cable. The quality of these accessories is pretty impressive.
The mic provides a pretty much neutral and natural sound. The super-cardioid polar pattern and a variable gain control allow the user to precisely adjust the microphone's output. If you compare the microphone with Rode VideoMic NTG then you will find that it has the same pick-up pattern like it. Also, in our opinion, it is the most easy-to-work microphone on the list.
The Comica CVM-VM20 is a nice value for money shotgun microphone is the list which is compatible with both phones and camera. It is very easy to work with and comes with all the required accessories that you will require to start your production. The overall build quality of the microphone is pretty solid and weighs only 1.2 pounds. Also, it is a microphone with a short length, making it very easy to carry from site to site. In simple words, you do get what you paid for.
As we said earlier that the Comica CVM-VM20 is a budget pick and has the required functionality that you will require to start your production. Compared to expensive microphones the microphone provides decent quality sounds. So, if you want an inexpensive but durable phone-compatible microphone with a decent, natural sound and nice features then of course you should look no further. It can be a great option for you without any doubt.
Pros
 Natural sound
 Phone compatible
 Great value for money
 Included dead cat
Shotgun Microphone Buying Guide:
Sometimes, choosing the best shotgun microphone for interviews becomes a very time-consuming and tricky task. Therefore, in this section of the article, you will learn about some key features of a shotgun microphone that you should consider when buying a shotgun microphone and will not be fooled by any marketing tricks.
In simple words, microphone sensitivity is the amount of output for a given input. The input is the sound that you are recording with the microphone and the output is the actual recording. The output of a microphone is also referred to as "the signal". The signal is mostly measured in mV (millivolts) or dBV (decibels).
When buying a shotgun microphone you should consider the sensitivity of the microphone because you should know how much audio signal you should expect out of your microphone. The more sensitive the microphone is, the louder the output will be for a given input of sound. Low-sensitivity microphones are generally ideal for recording loud and isolated sounds. On the other hand, high-sensitivity microphones are generally used for recording quiet sounds.
Now the question is, which one you should choose? The best sensitivity of a microphone depends on the recording application. Sometimes a lower sensitivity microphone better and sometimes microphones with higher sensitivity are better.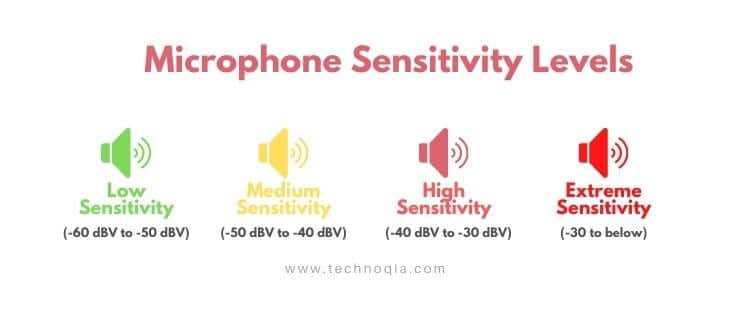 According to Shure, "Self-noise" is the noise introduced to the audio by the microphone's circuitry. In simple words, Self- noise is the output that the microphone produces when there is no sound source. All microphones more or less produce noise but you should consider the amount when choosing your microphone.
There is no microphone in the market without self-noise. So, you have the choice based on your application. Recording very quiet sounds with too high a self-noise will result in an audible hiss. Noise-free recordings demand a very low microphone self-noise level. Therefore, for easy comparison between different microphone levels, have a look at the chart below –
| | |
| --- | --- |
| >24 dB | Poor |
| 20 dB-23 dB | Fair |
| 16 dB-19 dB | Good |
| 11 dB-15 dB | Very Good |
| <10 dB | Excellent |
The perfect length of a microphone is very important because it will determine how portable the microphone and how narrow the pickup pattern is. Also, it will determine how effective the microphone is at canceling out lower frequency sounds. Therefore, considering the length of a microphone when buying is very important.
As with other considerable topics in this section, the length of a microphone also depends on your application. Besides the application, the length of a microphone also depends on travel restrictions and user preference.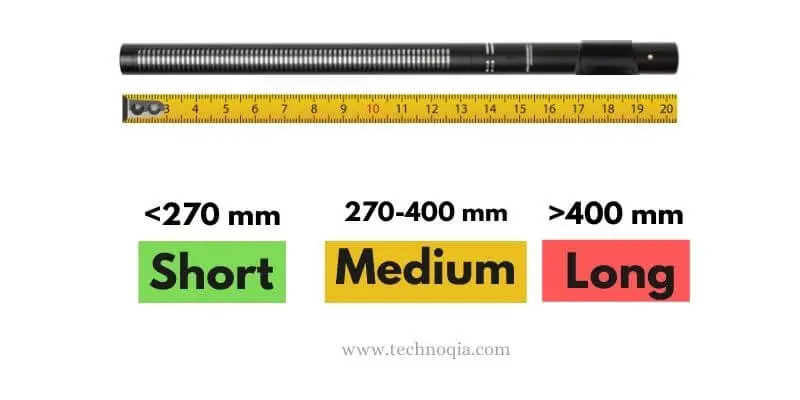 Short Microphone: Short microphones are less directional than longer microphones but they are useful when you need something for quick action. Also, when you set your microphone on top of your camera via a hot shoe connection, you must need a short microphone for the work. Because you will not want the microphone to enter the frame.
Medium Microphone: Medium microphones are mostly recommended for interviews. Also, they work in most situations offering a good balance of noise rejection and ease of use.
Long Microphone: Long microphones are mostly chosen for their greatest off-axis rejection. However, its long length makes it heavy and difficult to work. If you have a skilled boom operator then it will be easy for you to focus on the subject. If you are going to do most of your recording in loud environments or distant sounds, a long microphone is always recommended from our side.
When it comes to choosing a microphone for recording an interview then you should surely consider the weight of the microphone. Microphone with heavyweight will affect your productivity and workflow. Therefore, it is always recommended to go with a lightweight microphone.
Outdoor environments are not ideal for any electronics. Noise, humidity, dirt, dust, temperature, etc never allows you to use your electronics freely and comfortably. Therefore, to solve this problem, manufacturers coat the internal wiring and circuit boards with a film called "conformal coating", that protects them from moisture, dust, and extreme temperatures. So, If you are going to record outside with your shotgun microphone then make sure the microphone you are going to select is moisture resistant.
In this article, we have tried our best to give you a detailed and informative review of some of the best shotgun microphone for interviews in a friendly way and also provided with the necessary information that you must know when buying a microphone. We hope that it will help you to come to a decision.
It is always better to first make your budget before settling for a particular device. Interviews require a different type of microphone compared to filming. Also, try to invest some money in audio accessories for better performance.
Hope this article was helpful to you. Don't forget to checkout our other articles. Thank you for being with us.