If you are into blogging, video making, or online gaming then you must have encountered the problem of the microphone picking up your keyboard noises when recording. It is one of the most frustrating things that can happen to any content creator. It doesn't only reduce the quality of your content but also annoys your audiences.
This problem is more common with mechanical keyboards, as they produce a clicky sound every time you press a key. If you have ever been in an online meeting where the host was using a mechanical keyboard or played multiplayer games with someone who was using a mechanical keyboard then you must know how annoying it sounds.
However, wouldn't it be great if there was a way to reduce keyboard noise when recording? If you record videos and publish online then you should know how to reduce keyboard noise when recording in order to have the maximum amount of views and satisfy viewers.
In this article, I will show you some cool and simple techniques that can help you reduce the irritating and unwanted noise of your keyboard when recording. It will improve your content quality and help you grow faster.
So, without further a talk, let's get started.
While searching for the best possible solution to this problem, I stumbled upon some strange answers on the web. In order to dampen the sound effect of the keyboard, many people suggested covering your hands with a thick towel or putting an acoustic foam under your hands.
However, after days of research, I have come up with the following solutions.
1. Try Re-Positioning Your Microphone
If you ask how to reduce keyboard noise when recording, the easiest and most straightforward thing you can do is reposition your microphone. Depending on how you place your microphone, it will greatly affect how your microphone will pick up sounds from your keyboard and surroundings.
Desktop/Studio Microphone
Almost every studio microphone model comes with a different directionality. If you don't know what directionality is, it refers to the angle and direction from which the microphone detects sound. There are even microphones that let you configure the directionality of sound.
Microphones are mainly classified into four categories based on their directional characteristics: omnidirectional, unidirectional, bidirectional, and cardioid. Unidirectional and cardioid microphones pick up sound from one-directional.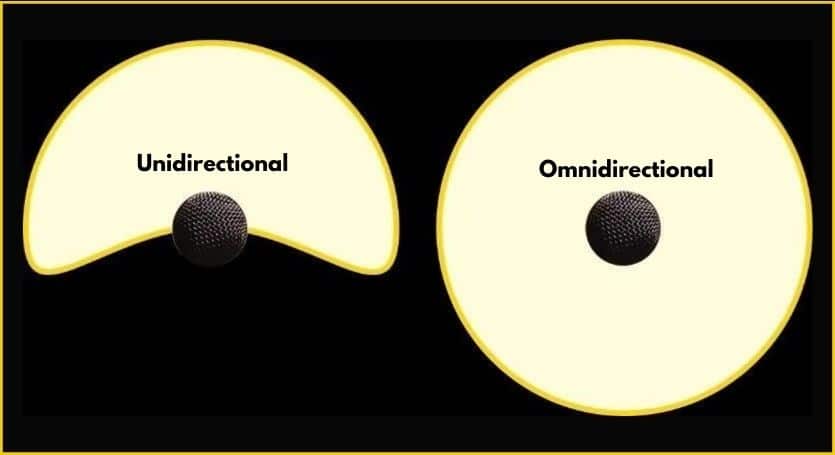 So, if the microphone you are using is unidirectional or cardioid then you should position it so that it faces towards you, while the keyboard is behind it. In this way, you will get clear audio with reduced keyboard noise.
However, if you are not sure what directionality your microphone has, try searching for it on Google. Also, you can check the manuals of your microphone.
On the other hand, if you use your headset microphone when recording then positioning the microphone can help. However, since your headset microphone is closer to your mouth, it will pick up less keyboard noise.
But the microphone may pick up breathing and plosive noises. If you want to prevent this from happening, you need to ensure that your headset's microphone is positioned just past your mouth, not in front of, or next to, your nose or mouth.
2. Get A Silent Mechanical Keyboard
The defining feature of mechanical keyboards is that they deliver clicky tactile feedback every time you press any key. It happens because mechanical keyboards come with switches underneath each key.
Compared to the traditional keyboards out there that use a plastic membrane, mechanical switches feel great while typing. But despite the fact that they are more comfortable to type with, they produce more noise, which is a great disadvantage while recording any kind of video.
However, it might be a good idea to get a mechanical keyboard that doesn't make noise if you want to enjoy all the features of mechanical keyboards without making loud noises. In case you have ever researched mechanical keyboards, you might already be aware of some switches that don't make noise. Typically, "Red", "Black", and "Brown" mechanical switches are known for their reduced noise.
These mechanical switches are uniquely designed to reduce noise while still retaining their familiar smooth feel. There are so many mechanical keyboards out there that come with these silent switches. And if you are also planning to purchase one then you can check these keyboards out.
3. Make Some Changes To Your Keyboard
In the event that you have already invested in an expensive mechanical keyboard and do not want to get a new one, you can reduce the noise by modifying the keyboard. There are some adjustments that can be made to your keyboard to noise.
Installing O-rings or tiny silicone rings can be a really good option for reducing the sound coming up from the keyboard. The rings are designed so the key steps do not contact the keyboard plate when pressed, thus there is no clicking sound. However, these do not prevent the noise when the key springs back up from when it bottoms out.
The installation process of these O-rings is very straightforward; you won't even need any professional help here. With the keycap puller, remove all the keycaps, install the O-rings, and then replace all of the keycaps. This is a manual process that requires only a few minutes and helps eliminate keyboard noise when recording.
The best thing about these O-rings is that they are not expensive. Typically, you will spend between $5 and $20 for a set of O-Ring. But since there are so many options out there, make sure you get the right set of O-rings as per your keyboard model.
4. Configure Your Microphone Settings
Configuring your microphone settings is another effective way to reduce keyboard noise while recording. In order to prevent your microphone from picking up keyboard noises, you will need to check the settings on your microphone and adjust them.
Almost all the microphones out there, medium to high-end, come with software that enables you to configure the microphone according to your preferences. You can adjust the microphone sensitivity and amount of sound the microphone picks up using the software. To find out if your microphone comes with software, visit the manufacturer's website.
However, If your microphone doesn't come with software, you can change the settings on Windows sound settings to get the job done. You can do this by going into your computer's sound settings and finding the recording settings. Under the microphone section, you can adjust the sensitivity of your microphone using the slider. You can easily eliminate the noise from your keyboard with this simple adjustment.
Read: Best Keyboard For Day Trading
In case you don't have much experience with microphone sound tuning, you can watch video tutorials on YouTube or ask an expert for help.
How To Dampen The Keyboard Noise In Discord?
Discord is one of the popular software out there for communication. Discord allows you to adjust the microphone's sensitivity through its settings. In this section, I am going to teach a few ways to dampen the keyboard noise in Discord while recording.
1. Adjust the mic sensitivity
In default settings, Discord determines the level of sound input it needs to activate the microphone for you automatically. Typically, this works great but if you have a loud mechanical keyboard then you should adjust the microphone settings manually. You need to maintain the microphone sensitivity in order to dampen the keyboard noise.
STEP 1: First of all, open the Discord software and navigate to the Settings
STEP 2: Under the "Voice & Video" tab, you will notice "Automatically determine input sensitivity". You have to turn it off.
STEP 3: Through trial and error, adjust the sensitivity of your microphone from the slider below so that it triggers only when you speak, but not when you type. Keep moving the slider until you don't hear the noise of the keyboard in your recording. With this small customization, you can easily reduce your keyboard noise.

2. Start Using push to talk
When Push to Talk is enabled, Discord keeps your microphone muted until you press the predefined key to speak. Thus the microphone will only record your voice when you "push" a button, so you can prevent your microphone from picking up unwanted keyboard noises.
If you don't know how to enable the Push to Talk, follow the steps below.
STEP 1: Open your Discord and go to the Settings.
STEP 2: Under the "Voice & Video" section, switch the input mode to "Push to Talk".

STEP 3: Now edit the keybinding by clicking on the "Shortcut" field. Or you can use the default keybinding.

If you are a professional content creator who records videos, it is extremely important to pay enough attention to the sound quality. Learning how to reduce keyboard noise when recording can be helpful in achieving more positive results, as well as enhancing your overall experience. It is always annoying to hear unwanted keyboard sounds during recording, which affects the quality of the sound.
Therefore, in this article, I have described some easy methods that you can follow to reduce unwanted keyboard noise when recording. Hopefully, these methods will help you. Try to place the microphone at the right distance away from the noisy source.
If you face any problem then let us know in the comment section. Thanks for being with us 🙂