Wireless keyboards have become very popular in recent years due to their portability and ease of use. With a wireless keyboard, you can use your computer with no keyboard cables tangling on your desk, and you can take it with you wherever you go.
With the advancement of modern technologies, there are no limits to what wireless keyboards can do. They now have the ability to connect to just about any device. This gives users the freedom to use their keyboards from sitting anywhere in their workspace. But have you ever wondered – how far do wireless keyboards work?
Well, the most common type of wireless keyboard uses radio frequency (RF) technology, which has a range of up to 30 feet. But depending on your environment, that range can be reduced. If there are obstacles in the way, like walls or furniture, it will weaken the signal and shorten the range.
In this article, I will try to give you a clear view of how far wireless keyboards work in different scenarios and share some tips on extending their range.
So, keep reading the article to the end.
Wireless keyboards use radio frequency (RF) signals to communicate with the computer. The radio frequency signals range from 27 MHz to up to 2.4 GHz. Also, so many wireless keyboards use Bluetooth technology to connect with the computer.
Wireless keyboards include a small receiver that plugs into the computer's USB port, and the keyboard sends signals to the receiver. The receiver then converts the signals into keystrokes and sends them to the computer.
Because RF signals can go through walls, you can use a wireless keyboard anywhere in the room, as long as the receiver is within range. You can even use wireless keyboards with some smart TVs and other USB port devices. Plus, if your keyboard supports Bluetooth, you can use it with any Bluetooth-enabled devices like smartphones, tablets, etc.
Also Read: What is Keyboard Ghosting and How to Fix It?
How far do wireless keyboards work?
The range of wireless keyboards depends on various factors like the type of the device, its frequency band, and the environment. If there are so many devices around that operate on the same 2.4 GHz frequency band, the range of the keyboard can be reduced. The range also varies depending on whether you use it indoors or outdoors.
In general, most wireless keyboards have a range of about 9-10 meters (30-33 feet). If you have a good quality wireless keyboard and mouse, and there are no major obstructions, you should be able to get a good range from them. You can work at a reasonable distance away from your computer without any issues.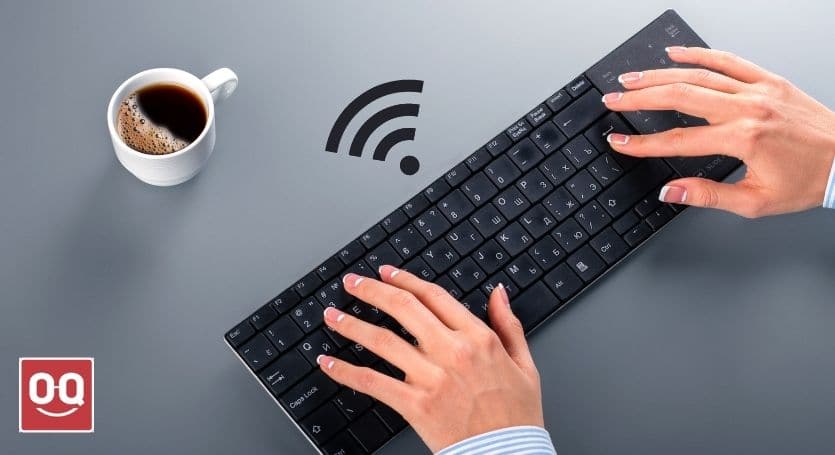 This can be really useful if you want to work in a more comfortable position or if you want to be able to move around while you work. If you want to buy a wireless keyboard with a good wireless range, you should check these out.
However, if you don't have the budget to invest in a good wireless keyboard, then you can try extending the wireless range of your existing wireless keyboard.
Also Read: Why should you get an external keyboard for your laptop
How to extend the range of wireless keyboards?
Here are some ways that may work for you:
1. Make sure there isn't any obstruction
The wireless signals sent by the receiver cannot pass through furniture or walls. As a result, the wireless range will be significantly reduced. Any obstacle between the receiver and keyboard will also block wireless signals from passing through.
Therefore, to extend the wireless range, make sure that there are no obstructions between the receiver and the keyboard. There should be a clear line of sight.
2. Use a wireless extender
If you still can't get the keyboard to work from your desired distance, you may need to use a wireless extender. A wireless extender is a device that can amplify the wireless signal and extend the range of a wireless network. It essentially acts as a repeater for the wireless signal.
By placing the wireless extender in between the receiver and the keyboard, you can extend the range of the wireless keyboard. However, make sure that the wireless extender is compatible with your keyboard and receiver.
3. Replace the battery of your keyboard
Your keyboard will work much better when it gets the power it needs. If you've been using the same battery for a while, it may be time to replace it. A fresh battery can make a big difference in the performance of your wireless keyboard.
However, if your keyboard includes rechargeable batteries, you need to make sure that they are sufficiently charged.
One of the main reasons why the range of your wireless keyboard is not as expected could be outdated or corrupted drivers. Outdated drivers can create all sorts of problems. When you update the drivers, it can fix various bugs and improve the overall performance of your keyboard.
Drivers usually get updated automatically by Windows. However, you can also check for updates manually by going to the Device Manager. To do that, press the Windows key + X on your keyboard and select Device Manager from the list of options.
Read: Best Keyboard for Excel
Expand the Keyboards section in Device Manager and right-click on your keyboard. From the context menu, select Update Driver Software.
5. Get a higher quality wireless keyboard
Once again, the quality of the wireless keyboard makes a difference. If you're using a cheap wireless keyboard, the range will likely be poor. On the other hand, if you're using a high-quality wireless keyboard, the range will be much better.
Therefore, I always recommend investing in a good wireless keyboard that offers a long wireless range. It will save you a lot of headaches in the long run and improve your productivity. Here are some good quality wireless keyboards that you should check out. 
Also Read: How to Make a Wired Keyboard Wireless?
So, how far do wireless keyboards work? The answer to this question depends on various factors, but most wireless keyboard manufacturers claim that their products have a range of up to 30 feet. However, the range is usually much shorter in practice because of obstacles such as walls and furniture.
If you want to extend the range of your wireless keyboard, then you can try some of the methods mentioned above. By following these tips, you can improve the range and performance of your wireless keyboard.
But overall, wireless keyboards have been improved a lot. They offer a lot of convenience and flexibility when it comes to working from home or on the go. You can share your experience of using a wireless keyboard below.
Hopefully, you found this article helpful. Please read our other articles to learn more tips and tricks about keyboards.
Thanks for being with us 🙂