If you don't like your co-workers peering over your shoulder while you are dealing with sensitive data, then you should know how to make your computer screen invisible to others.
Screen privacy is a major concern in an increasingly data-driven society. Every day from online banking to social media and personal communications, we deal with a huge amount of sensitive information through our computer screens. But you never know who is also watching or recording your work.
Therefore, securing your computer or laptop screen has become an essential security measure. Also, if you regularly work with confidential information, like bank transactions, medical records, or official documents, then the visual data protection is a must for you.
Luckily, there are some ways to resolve data vulnerabilities. If you don't want to buy any tool and have an older monitor or laptop lying around, then you can easily transform that monitor or screen into a privacy screen that secures your sensitive data from prying eyes.
So, without any further talk, let's get started.
If you deal with confidential data on your computer screen then screen privacy is a must for you. But we don't pay much attention to this problem while it is very easy to steal visible data with low-tech visual hacking techniques.
What is visual hacking? Visual hacking refers to staring eyes attempting to steal your sensitive data without your concern. It is one of the simplest and lowest-tech ways to steal your personal information. When you are working on your computer, you never know who else is also looking at your screen.
Therefore, screen privacy is very important. Especially when you are working in a public place, securing the confidential data on your screen becomes an important security measure. Because you never know who is looking at your screen. So, if you don't protect your valuable data from staring eyes nearby, you are probably opening up very dangerous vulnerabilities.
Moreover, screen privacy becomes unavoidable if you regularly work with sensitive data, such as – medical reports, bank transactions, or official documents. Anyone can harm you with these information.
So, screen privacy is very important and it's your responsibility to protect your data.
How to make your computer screen invisible to others?
Making your computer screen invisible to everyone except you is a very interesting way to overcome this situation. Follow these easy steps to make your monitor's screen appeared blank to everyone –
To start the process you will need a particular toolset. Here is the list –
 An old LCD monitor
 Single use 3D glasses or old sunglasses
 Box cutter
 Paint thinner
 Screwdriver or a drill
 Superglue
 Paper towels
So, make sure you all these tools ready to start the task. If you don't have any of them then you can purchase them from a local store or order them online at Amazon.
2. Take the monitor apart
Once you gathered all the necessary materials for the job, now it's time to start the main process.
First of all, you need to take an old monitor that you are willing to sacrifice. Then you have to take the monitor apart and simply remove the plastic frame from the monitor by unscrewing all the screws from the back. Make sure you don't bend or break the screen while removing the frame from the monitor.
3. Remove the polarized film
When you successfully take the monitor apart and remove the plastic frame from the monitor, you have to remove the polarized film.
What is a polarized film? The polarized film allows the computer users to see what is displayed on their monitor screen. Without this film, the display would only glow white and no text or images would be visible.
Most of the LCD monitors out there have two films on the glass – a polarized film which is responsible for filtering out the light transmission you are not supposed to see, and a frosted anti-glare film. The anti-glare film helps eliminate a significant amount of unwanted light and glare. But for this process, we don't need the anti-glare film, the polarized one we do.
So, take your cutter and cut out the polarized film along the edge. Press hard if requires because metal will not scratch the glass. Once you have cut the film properly, peel it off and make sure you remember the orientation.
4. Clean the screen properly
After you remove the film, the film adhesive will likely remain stuck to the glass, so you have to remove them properly.
You can use any solvent to soften the adhesive and clean it with paper towels. But the fastest and easiest way to remove the glue is by covering the screen with paper towels and soak them in paint thinner. Let it sit for quite some time and remove the adhesive without running or evaporating.
While using paint thinner, be careful not to get it on the monitor frame, because it will dissolve it. You will need to remove the soft glue with a piece of plastic or wood.
5. Reassemble the monitor
Congratulation! You are all done with the monitor part. Now, assemble everything back, the way it was before. Use your screwdriver to place the plastic frame on the monitor.
Now you have to make the glasses. But before making the glasses, test the monitor with polarized film.
If you watch carefully, you will notice that the upper left corner of the polarized film looks clear, because the anti-glare film has been removed from it. This is the part which we are going to use to make our glasses.
From the previous step, we are actually done preparing the monitor screen for our project. Now you have to prepare the glasses. First of all, take your glasses and pop out the lenses or take the glasses apart using any hard material. You can choose any glasses for this job.
Once you have removed the lenses from the glasses, now you have to cut the polarized film. There are several options available for cutting the film. If you have a CNC blade or laser cutter, scan and trace the parts. But if you don't have access to a CNC blade or laser cutter, you can simply tape the old lenses on the polarized film and then cut them out with a sharp knife.
Also, you should deal carefully with the polarized film since the angle is critical. Make sure the orientation is perfect before cutting the film.
When you are all done with the cutting process, assemble the glasses and you are ready for some fun.
Now when you turn on the computer you will not see any content without a blank screen, because you have just made everything disappear. You can only see the content if you put on your polarized glasses. People might even think that you are crazy, looking at a black screen wearing sunglasses!
How to hide your computer screen?
If you don't want random people to see your computer when you are dealing with sensitive data in the office or public then you should know how to hide computer screens from people. Because screen privacy is a major concern but most people don't think enough about it.
Also, it is very easy to steal visible data with visual hacking techniques. Therefore, it is very important to hide your computer screen to avoid any risk.
Luckily, there are a number of actions you can take to hide your computer screen from staring eyes.
1. Using computer privacy screen filter
A computer privacy screen filter is simply a thin layer of polarized plastic that narrows the viewing angle so that only the person using the computer can see what is onscreen. People around the screen will see nothing but a black screen.
The polarized plastic combines an anti-glare coating that allows light to pass through the plastic layer at only certain angles. It is an easy and simple solution to this problem. There are several manufacturers who produce these screens. Different screen filters offer different viewing angles.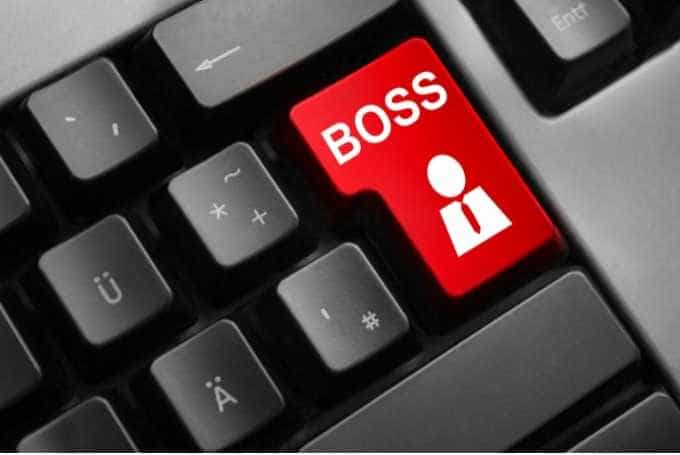 Another easiest way to hide your computer screen when someone starts staring is to go straight to the desktop. If you are on Windows, then the shortcut key is "Windows Key" + D. On a MAC OS, just press the F11 key and you will be directed to the desktop screen immediately.
3. Using computer programs
There are several programs available for download which will instantly hide all of your open contents or windows. These programs are also referred to as "Boss Button".
You just simply need to configure the program to activate when you press certain keys or drag your mouse cursor into a certain corner of the screen. The program also allows configuring which applications to close and which to leave in an emergency situation. Some of the boss key programs are –
4. Use walls or partitions around your screen
If you work in an office where computer screens are not separated by partitions or walls then it makes visual hacking much easier. So, if you want to hide your confidential data from other people then it will be better if you use partitions or walls around your computer screen. Besides, if you have hard copy confidential documents then shred them using a paper shredder so that no one can read anything.
Also, partitions or walls around the screen make it much easier to keep visual data safe by blocking hard copy documents and displays.
In this increasingly data-driven society, securing your on-screen confidential information is a must. People mostly pay attention to modern cyber-security threats but most of them are not aware of the dangers of visual hacking.
If you want to stay away from these kinds of visual hacking then it is very important to secure your computer screen.
Therefore, in this article, we have shown you how you can make your computer screen invisible to others. Also, we provided you with few tips to hide your monitor screen from wandering eyes. If you follow these, you can easily keep all of your confidential information safer from visual hackers.
Also, making a monitor screen invisible is a very interesting DIY project to do at your home if you have an old monitor. You can carry out this process yourself or invite your friends to join you.
Hopefully, we have explained everything properly in detail so that you don't face any problems. Thanks for being with us 🙂